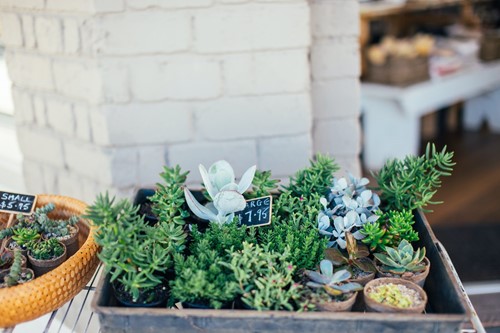 Container gardens are a plant-lover's art form. With so much room for creativity and combinations of plants and flowers, you can achieve countless eye-catching designs. However, the amount of choices can also seem daunting. How do you know which plants to choose for your container? Here are some basic tips to help you choose the best companion plants for a beautiful container garden:
Match Growing Conditions
The most important factor in designing a successful container garden is choosing plants that have similar environmental needs. Plants with the same light and water requirements will thrive together, while those that are different will struggle. Unless you're creating a garden in a stationary planter, container gardens offer the flexibility to move them to the ideal amount of sun or shade. Even still, select plants that all have the same sunlight preferences and watering needs.
Combine Flowers & Foliage
You don't have to rely on flowers to achieve beautiful and vibrant container garden looks. There are many plants with colorful foliage you can use in combination or just on their own. Some outstanding examples of plants with stunning leaves are coleus, caladium and hosta. These plants produce foliage to rival even the most colorful flower combinations, making them an excellent choice to consider in your container garden design.
Thrillers, Fillers & Spillers
Combine plants that will grow in a variety of sizes and shapes to get a dynamic aesthetic for your garden. You might encounter the terms "thrillers, fillers and spillers" in descriptions of plant types. In the gardening and landscaping world, these terms refer to the general shape and physical presence a plant will have in a container. Thrillers are plants that grow tall, fillers are more dense and medium-height and spillers will trail or hang over the edge of the container. A healthy mix of all three will help you achieve an exciting design.
Consider Container Size
Your goal might be to have a lush container garden that looks like it's bursting with color, but be careful to use a big enough container. Remember that most plants will grow to fill the space provided, so there's nothing wrong with a little breathing room in the beginning. Besides, it's always easier to add another plant into the container than struggle to fit too many of them together. Many gardeners suggest a 1-to-3 ratio when planning the amount of plants to include. For instance, a container measuring 12 inches across could comfortably fit three 4-inch pot-sized plants.
Color Creatively
If you're stumped on color choices, there are some strategies you can use to design your garden. One strategy is to choose a focus plant and then build around it. What colors will look best with this plant? Do you want to match for an abundance of the same color or create contrast? Another strategy is to look at an artists' color wheel to find complementary colors. You can achieve an eye-catching look with a mix of opposite colors and those that are close together in the spectrum.
With so much room for creativity, choosing plants for a container garden might seem like a daunting task. However, if you stick to these tips, you should have an easier time creating a beautiful design full of plants that will thrive together.